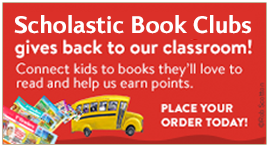 Each month, with the exception of November, Scholastic catalogs are sent home to give you the option of purchasing books for your child. Note: November is our Book Fair and Family Reading Night.
Ordering through Scholastic is affordable and easy. There are so many books to select that will delight your preschooler, as well as other children you may have. Each month, we have the option to earn free book sets, book vouchers to purchase books and points for every book that is ordered. The points can be used to order supplies and more books for the preschool's reading library.
To find out when the orders are due each month, please visit the Preschool Calendar web page.
Online Ordering Information
Click the image above to visit the preschool's Scholastic Book Club site
OR
Account Name: Construction Kids Preschool
Account Teacher Name: Kelly Pizzino
Scholastic Coordinator: Elizabeth Northup – Please contact Elizabeth about needs you may have with your order.
Class Activation Code: GRQY4  Use this to ensure that your order is sent to our Scholastic Coordinator.
If you place an order with the Scholastic Flyers that are sent home each month, you must submit orders, along with a check made payable to Scholastic (Cash or Checks only for printed flyers), to your teacher by the monthly deadline.